Historical Treasure: Traveling trunk and treasures within | Valley Life
2 min read
The golden age of vaudeville theater in Terre Haute may be long gone, but the...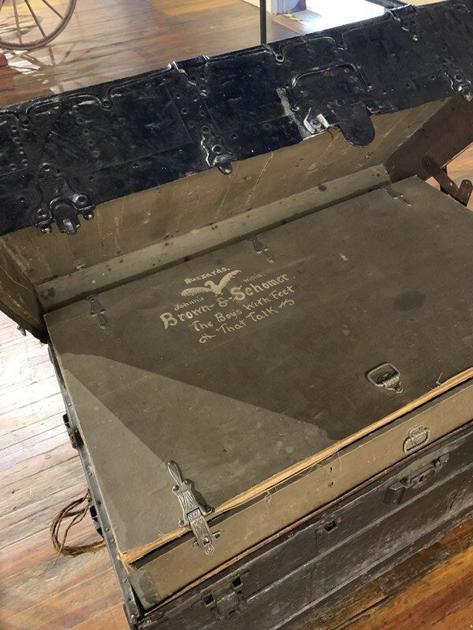 The golden age of vaudeville theater in Terre Haute may be long gone, but the recent discovery of a mysterious black trunk at the Vigo County Historical Museum awakened my interest.
Vaudeville acts were variety shows filled with singing, dancing, acrobatics, comedy, burlesque, and side show routines. There were around nine 10-minute acts in each show.
Terre Haute had several Vaudeville theaters, including the Indiana Theater. Researching the history of the trunk and Terre Haute's Vaudeville days led me to a surprising connection with some of the greatest Hollywood historical movies of all time.
This week's Historical Treasure once traveled the rails with the tap-dancing duo Brown and Schomer. Known as "The Boys with Feet that Talk."
Willie Schomer and Johnnie Brown were two men who danced and sang. They performed around the U.S. on the Keith Circuit of Vaudeville, including locally at the Hippodrome on Ohio (most recently the Scottish Rite), which was once owned by the B.F. Keith Company. William Schomer met Eula Trinkle, whose Terre Haute family had toured in medicine shows. The two married in 1904 and started a family. Schomer wanted a life closer to home and his new family and so the Brown & Schomer act split up in 1909.
Soon after the break with Johnnie Brown, William Schomer opened a dance studio of his own on Wabash Avenue and later become a manager at the Trianon Dance Hall. He also opened a ballroom called The Valencia at the Knights of Columbus lodge, but money was tight in the Depression Era and it closed. 
Schomer sold cars and became a traveling dance instructor in order to support his family. Several of his students found success in performance. Norman Nasser, Olin Martin and Frank McCormick toured Vaudeville. Terre Haute child star, Billy Lee, signed on with Paramount Pictures and stared in such films as Mike Fright, Wagon Wheels, and Make-A-Wish.
The History Center in the Vigo County Historical Museum proudly displays the Brown & Schomer trunk in the Transportation exhibit, along with several other items and photos from the tap-dancing act on the museum's second floor, in the Arts and Entertainment exhibit.
The Vigo County Historical Society Museum is now open. With appropriate sanitizing, social distancing, and face masks, visitors can learn about our Vigo County history in a safe atmosphere.
Museum memberships are available at www.vchsmuseum.org.