Summertime and the Livin' is Speedy: Bogus Basin offers thrilling summer activities for the whole family | Daytripper
5 min read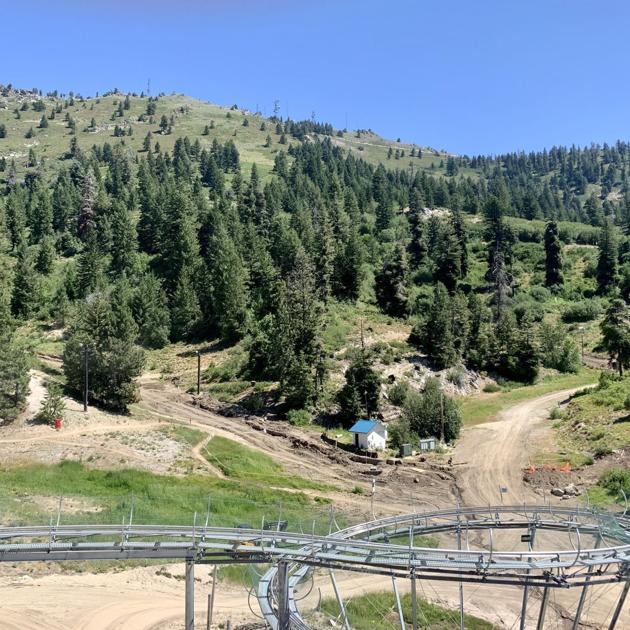 The Glade Runner Mountain Coaster at Bogus Basin lazily crested to the apex of the track, clicking its way along a scenic route that showcases clusters of wild mountain flowers. As the cart began the descent, quiet appreciation of idyllic views made way for screams of excitement and delight as the rider hurled down the track.
"The coaster is setting records this year," said General Manager Brad Wilson. "People are really enjoying it, and it's a unique experience where people can control how they ride and it creates a desire to go over and over again."
Forty-five minutes outside of Boise, a thrilling high-speed mountain experience is calling—but Bogus Basin has grown well beyond the ski season. Summertime on the mountain is just as full of adventure, and taking a ride on the Mountain Coaster is just the beginning. The nonprofit has a bevy of activities for the whole family from hiking and mountain biking to tubing and yoga.
This is the third year Bogus has been open for summer activities and the second year it has been open seven days a week. This year, from June 26 to Sunday, Aug. 16, the mountain is open all week from 11 a.m.–7 p.m. Additionally, the resort lowered prices on summer activities and day passes. An unlimited day pass is $39 for adults and $29 for kids, but the mountain also has activities that are free of charge.
"Something important to us as a nonprofit is that we want to be accessible for all people," said the Director of Communications and Community Relations Susan Saad. "People can come up and not spend a penny. They can use the trails, do weekend yoga or sit and relax, and there's no charge for parking. We want people to find what works best for them."
The Mountain Coaster is 4,330 feet long, and each cart can seat two. The carts also have handles that allow the rider to control how fast they go and for those who have safety in the forefront of their minds, the track is equipped with high-tech features that maintain a safe distance between riders. Wilson said its maximum speed is a little over 25 mph: "The cool thing is going through all the trees. It's a fun and slow building of anticipation."
The coaster may provide the most instant gratification for thrills but the summer tubing is also an option. Yes, it's clearly for kids but no-less fun for grown-ups. There are two lanes and people can either race or go together on one side for maximum speed. The lanes are 300 feet long and people grab tubes and ride up a kind of conveyor belt. The ride is over quickly but packs a punch, and is worth doing several times.
For those looking for something a little more extreme, Bogus also has two different kinds of mountain biking experiences, and its shop rents bikes and safety equipment out for day use. Bogus hired two different companies known for their trail making expertise to get the shop started, and the Bogus crews assist with the maintenance.
The first is the cross-country experience that begins with a lot of uphill riding and expands into more than 20 miles of foothill trails. These trails were built by Ridge to Rivers a local full-time trail crew that ensures quality trail experiences while putting the needs of the land at the forefront.
The second is the downhill trails and bike-park, for which Bogus has installed multiple bike racks on chairlifts to accommodate riders. The trails were made by Alpine Bike Parks—the company that also built the Boise Bike Park. Wilson said they're working on new trails and the mountain should have two more by the end of the summer. Downhill riding is an adrenaline-fueled sport but Bogus has trails that vary in difficulty, so riders of any age or skill level can weave in and out of the network of runs.
Bogus has a lot of information on its website about entering into the sport of mountain biking, whether its cross-country or downhill riding. The organization has videos and tips on reading and understanding signage on the mountain, riding and information about buying or renting bikes and gear.
If riding a bike on a mountain seems too adventurous, Bogus also has its fair share of scenic chairlift rides and hiking. People can ride on both the Deer Point or Morning Star chairlifts and don't even have to get off at the top to hike. The views are spectacular and, due to an unusually wet spring, the mountain flowers are still in bloom, creating a patchwork of color over the hills.
To experience the beauty close up people can hop off at the summit and choose a trail to hike back down. One of the most popular trails, called Around The Mountain, is about 10 miles and accommodates both bikers and hikers. But Wilson said Bogus gets pretty busy on the weekends for mountain biking and the organization instead recommends that hikers use the Elk Meadows trail. It's less busy, really good for hiking, at a higher elevation and really showcases all the wildflowers.
Additionally, Bogus has free mountain yoga weekend mornings at 11 a.m. There's a ton of space for social distancing and over 100 people participated on Aug. 1. The mountain also allows horseback riding as 2,000 of the 2,600 acres are forest service land and open to the public. The resort also has food, drinks and adult beverages available, but people are free to bring their own picnics and snacks up as well.
Wilson said the only activities that aren't available this season are the rock-climbing wall and the trampoline bungee because the organization couldn't offer them safely during the pandemic. However, because all of the available activities are outside, the resort is able to provide safe and socially distanced fun in every other area of its operations. Bogus has hand-sanitizer and masks available at all high-traffic areas and policies that require guests to wear masks while in any lines or whenever proper physical distance isn't possible.
"It's been so much fun to see people and families enjoying the mountain," said Saad. "We are exceptionally family oriented, and the summer is a great way to introduce people to the area and hopefully they'll come back up in the winter. We love getting families outside and active together."
Bogus Basin offers thrilling summer activities for the whole family